Against the backdrop of the global Covid-19 pandemic, is this the right time to invest in real estate?
Historically the Singapore economy and property market has remained resilient in the face of adversity and bounced back after every crisis to scale new heights.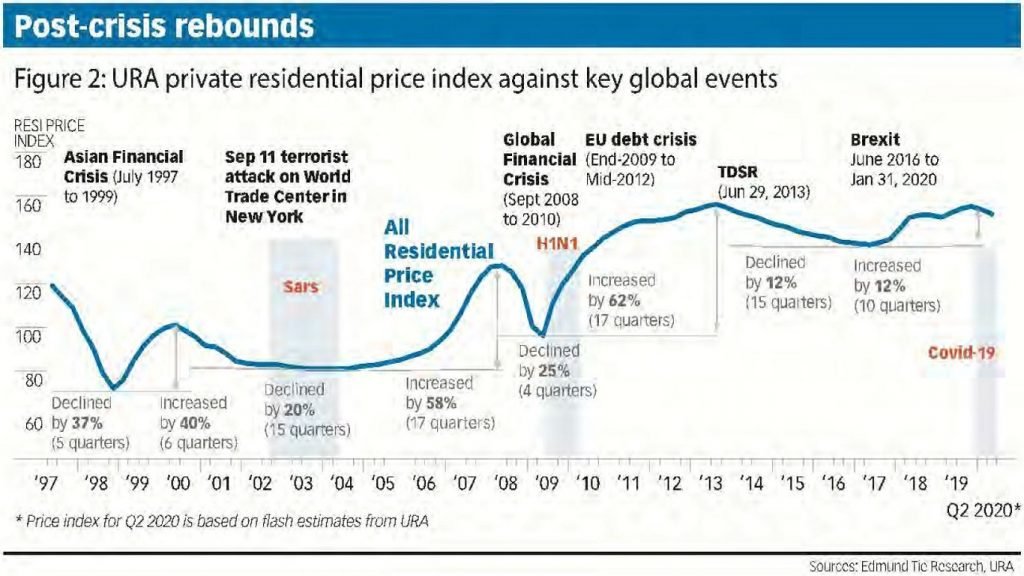 After the SARS crisis of 2003 abated, sales volume of private property increased from 5,156 units in 2003 to 8,955 units in 2004. Similarly, after the Global Financial Crisis of 2008, sales volume jumped by 244.5%, from 4,264 units in 2008 to 14,688 units in 2009. Property prices increased by more than 60% from trough (2Q2009) to peak (3Q2013) prompting the government to roll out multiple rounds of cooling measures during that period.
Demand from Singaporeans
Based on data from URA and the Department of Statistics (DOS), there is a growing number of Singaporeans buying private property even as demand from foreigners tapered off due to the ABSD hike from 15% to 20% in 2018. The aspirations of Singaporeans to own private property is reflected in the households and housing infographic below: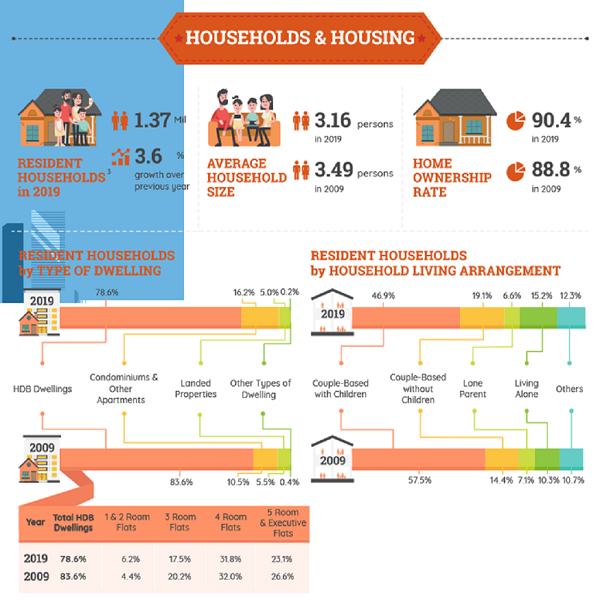 In 2009, 83.6% of resident households lived in HDB flats and 10.5% lived in condominiums and apartments. Fast forward to 2019, the number of resident households living in condominiums and apartments had increased to 16.2% while those living in HDB flats had decreased to 78.6%.
Recent statistics also show that more HDB owners are selling off their flats earlier, possibly to unlock value and upgrade to a private property. From 2018 to 2019, there was a 33.7% increase in transactions for flats less than 10 years old.
Every cloud has a silver lining
If you have done your sums and are looking at real estate as a longer term investment, this may be an opportune time to look for value buys in the market.
Interest rates are at levels not seen since the Global Financial Crisis after the US Federal Reserve in an unprecedented move, cut rates twice in 2 weeks to almost 0%. This translates into significant savings on interest repayments and lower monthly instalments for housing loans.
Developers are pricing new launches competitively and giving incentives to move more units during this period which should come as good news for prospective home buyers. After all do you get the best deals when the show flats are crowded or when they are empty?
Singapore is an exciting vibrant city and there are many ongoing urban transformation projects across the island to drive economic growth and bring jobs and amenities closer to residents. In the latest URA Master Plan 2019, key regions that are being developed include:
Changi Region
Greater Southern Waterfront
Paya Lebar Airbase
Punggol Digital District
Woodlands Regional Centre
Jurong Lake District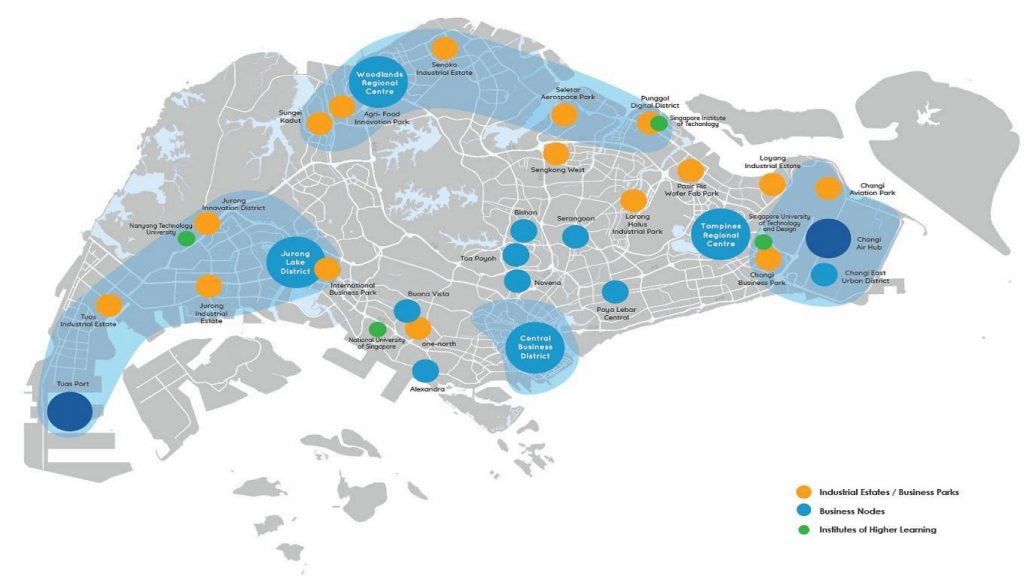 New infrastructures such as the Thomson East Coast Line (TEL) and Cross Island Line (CRL) MRT lines are also being built to provide better connectivity options and reduce commute time.
As transformation and rejuvenation takes shape, there will be a positive impact on property prices and rental yields in anticipation of new employment opportunities and community amenities within close proximity.
A classic example is The Sail @ Marina Bay, the first residential project in Marina Bay, launched in 2004 at an average selling price of $965 psf. By the time it was completed in 2008, the average selling price had risen to $1,873 psf even in the wake of the Global Financial Crisis. The capital appreciation can be attributed to rapid developments in the area including the Marina Bay Financial Centre Phase 1 and Marina Bay Sands Integrated Resort projects awarded in 2005 and 2006 respectively.
To have a better understanding of Singapore's property market and where the opportunities are, get in touch with me today.